Guide on how to register for the Regional Championship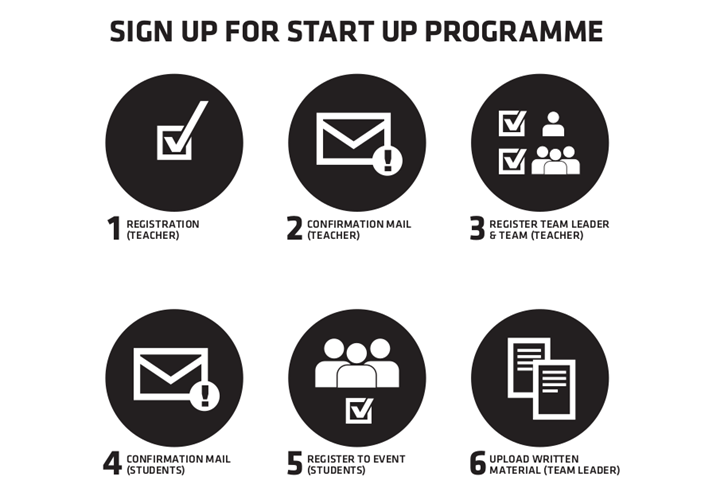 Registration for Start Up Programme
To participate as teacher and students in the Regional Championships in Spring and in the Idea Competition in the Autumn, everyone must be registered on the Foundation's registration platform called 'My page'. My page safely stores data on judges, students, teachers, points and feedback. 
As teacher you must register your teams before the students can do anything by themselves. We recommend that you collect a list of team names as well as name and e-mail of a teamleader of each team. Then you only have to register every team with their teamleader. After this, the teamleader takes care of the rest. See below. 
This is how you do - Practical guide: 
Teacher registers with his/her e-mail on My Page | 

Click here to register teacher

 ( Please note: All teachers must register ANEW each new school year due to GDPR )

Teacher confirms his/her registration through a link in a received e-mail (Check SPAM-filter for confirmation mail)

Teacher can log into My page. The teacher can now register teams with teamleader and an e-mail belonging to the teamleader (the first student who is registered is automatically the teamleader).
Teacher or teamleader registers the other team members. Everyone must actively confirm their registration through a link in a confirmation email (Check SPAM-filter).

The teamleader (student) registers the team for the relevant regional championship and chooses the category to which the idea/project/process belongs.

 

When everyone in the team have been registered and have confirmed it, the teamleader (and only the teamleader) can upload written material. Remember to click Final Upload. Upload must take place before midnight on the day of the deadline.

 
What is My Page?

My Page is a secure platform that stores data safely on both students, judges and teachers. Since the Danish Foundation for Entrepreneurship functions as national knowledge centre on entrepreneurship in the educations, the platform also helps with knowledge building about both teachers, judges and students regarding teaching with entrepreneurship methods in Denmark.
If you have questions, contact Programme manager Carina Hammer on 2445 7675 | carina@ffefonden.dk | For technical support, contact Niels Kochiya on niels@ffefonden.dk