Make your idea come alive at the regional championships
The Regional Championships in Entrepreneurship
The education and entrepreneurship programme Start Up Programme holds 3 regional championships every year.

___________________________________________________
"It is a competence booster that you don't get anywhere else"
Mathias, student at SIMAC - institution for marine education in Svendborg 2018. See our facebook and listen to other earlier participants
___________________________________________________
You can read more about the Championships, see movies from earlier championships etc. here

... 
Why should you participate?
The purpose of the regional championships is to give you as a student the opportunity to work with yourself, your entrepreneurial competences, and test your own skills as initiator and unique idea maker. The regional championships are considered a learning process for the participants. All students are welcome.
See how it went in 2018 and hear from earlier participants here
More than 60 % of all students who participated in 2019 said they had become more daring and more sure of themselves after having tested their idea at the Regional championships. 
Who can participate?
The regional championships are held in three locations in Denmark. All students with a good idea are welcome. Have you found an idea two days before deadline? Hurry up and make the written material - you are more than welcome.
We urge everyone to participate. 
It is, however, a requirement that your education or institution is part of Start Up Programme. Read more about registration and rules here or at the bottom of the page.
Click the below publication to read student guide (or find it in the top right corner). For Teacher guide and evaluation criteria Click here.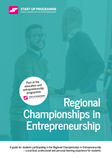 How do you participate?
Before the regional championship you or your team must develop a 3-page concept description about your idea - please take care to upload correctly.


On the day of the Regional championship you can meet counselors, fellow students, and you and your team will participate in a counselling talk with two judges. 


On the day of the Regional championship your team will also give a 4-minute pitch of your idea to a small audience, judges and teachers. See the judgement criteria etc. in the top right corner. 
What can you win?
As winner of the regional championship, you will receive a grant of 10,000 DKK and together with the other regional champions you will continue to the Danish championship in Entrepreneurship in Copenhagen. 

21 teams continue to the Danish championship
A total of 21 teams from the three regional championships in Denmark and one in Greenland will continue to the Danish championship. Here they will compete for the title as Danish champions in Entrepreneurship. 
As soon as we know the total pool of applicants from all 3 regional championships, we will calculate the number of participants that will continue to the national championship. 
Categories
You can compete in one of 4 different categories: Green Tech, Life Tech, Social Innovation and Service innovation. Read more about the categories
The regional championships are held in collaboration with Business Randers, Randers municipality,  and E&Y. 
Stay updated on this page or on facebook
If you have questions, please contact Programme Manager Carina Hammer on carina@ffefonden.dk or 2445 7675