How do I sign up?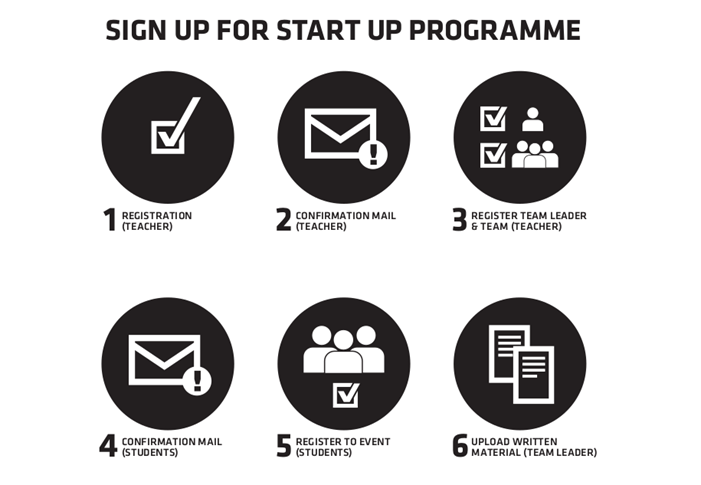 Start Up Programme follows the annual cycle of the educations starting in August and terminating in June. As an educational institutions registration takes place on 'My Page' (in the top menu). When the institution has been registered, the teachers must register in order then to register their education and their students.
As a students you can register for our events as soon as your teacher has registered you as a student.
The number of teams from each education that can register for the different events and competitions of the programme is unlimited.
Registration always opens in August, and you can continuously register teams for the different competitions.
To register, follow these steps: 
The teacher must register with his/her e-mail on My Page
The teacher confirms his registration through a link in an e-mail sent to him
The teacher registers teamleader (student) and team with an e-mail belonging to the teamleader
The teacher or the teamleader registers the individual members of the team, and they must all actively confirm their registration through the link in an e-mail sent to them.
The teamleader registers his/her team for the wanted event on My Page
When everyone has confirmed their registration, the teamleader can upload written material.
Next registration and application deadlines for students:
Sign up for the regional championships - deadline 1 April. Read more here
Idea competition - application deadline 29 October. Read more here
Videopitch competition on 21 Nov - Read more here. Deadline coming up... 
For further information contact Carina Hammer at carina@ffefonden.dk or 2445 7675.